IMPORTANT NOTE:
Before I get into todays regular post I want to thank everyone who left a comment on my last post. I appreciate you sharing bits of your stories and your support. I wasnt thinking very clearly and Judy mentioned having boys, my post was mostly directed towards the girls and my visitors who have girls. But in mentioning her sons Judy reminded me it effects the boys just as much as the girls. They also can get cancer, and Im not sure how it works but I would definately be looking into the vaccines for them as well. Better to be safe than sorry, and keep in mind most all men/boys who have HPV will never know as there isnt a test currently that can find it. Definately talk to your sons about the risks too!! Its not just the girls, everyones life is at risk!! And not just the risks of HPV but of all STDs!!!

Its been a long weekend! I dont know why it seemed to go by so slow. Friday we went and ordered the cake for Kelseys party. We took the kids and rented them a video game for the Wii. Saturday we didnt do very much at all. Mostly sat around playing games and such. Sunday we had Kelseys mini birthday party. She had a blast.
We also found out yesterday my mom and dad may be going to court. Seems they have more trashy neighbors who like to abuse animals. The man kicked one of his puppies awhile back and broke its shoulder so its crippled. Mom and dad and my aunt and uncle have been feeding the animals. The kids all play with them when we are there. They are just the sweetest dogs! Well anyway, they had another pup that had always been tied up on the porch. Noone has ever seen it but it tends to bark all night long. Mom mentioned it to the guy the other day when he asked if his pets were bothering them, she said "No its just hard to sleep with that one yelping all night" The guy said he would fix that problem in front of witnesses. Well yesterday the Sherriff showed up to question mom and dad about poisoning the dog. Seems someone killed that pup that has never been off their front porch and he told the police that mom and dad did it cuz it barked. Yeah ok whatever! Anyone that knows my family knows we treat animals just like kids. Its total BS! However as of last night the other 2 puppies were dying and my mom called someone in to take a look at them, she was told that they were all dying due to parvo and more than likely wouldnt make it through the night. If they were still living this morning they were to be taken to the vet and put down. I hate that!!! But all my cats are at my moms because I cant have them where I live. And its obvious this man has no respect for the furry things so Im afraid hes going to kill my cats in retaliation, and honey if he does he will be the sorriest SOB that ever walked!!!
ok Im done venting now lol on to the good stuff.

I actually joined a challenge! I havent done this in so long...I joined up at snap and scrap. I would like to get back into the whole community/message board scene but as some of you know due to past experiences Im a bit hesitant. And they have an absolutely beautiful kit they are giving away this month, its called Recycled Romance and for me its a definate must have. You can grab some of it by the daily download on the blog but other pieces you have to participate in all the challenges. Definately worth it!! But anyway it was a sketch challenge and I had a blast doing it. Its more on the elegant side compared to what I normally do.
My friend Tamatha asked Blaine and I to photograph her wedding back in September, this is a couple of my favorite shots.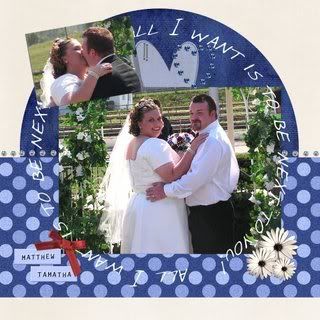 Credits: Papers: MyAngel, Blueberry Delight (Joanne Bain), Blog Freebie *recolored* (G. Cook), Lyric Circle: Lyrical *recolored* (Brittish Designs), Bow: Elegante Valentine (Lunelle), Vellum Heart: My Hearts Desire (Dahlia), Name Labels: Skip ABC *edited & recolored* (Digitreats), Other Elements: Joanne Bain

I think Im going to start using Sundays as my day to upload and share layouts. Im working on a schedule for posting on the other days of the week, as soon as I figure it out though I'll let you know.

For now I have a brag book template for you. I had made this one a while back but had misplaced it, imagine that! lol And just a heads up tomorrow is Kelseys 2nd birthday and to celebrate you are getting another 4x6 template so be sure to stop by again tomorrow!



Download